U.S. stocks pushed toward all-time highs, while the dollar halted a slide as investors focused on fresh data that added to signs the global economy remains on firm footing. Brazilian assets stabilized and oil hit a one-month high.
The S&P 500 Index's fourth straight gain took it back toward 2,400, as bank shares led advances amid gains in the 10-year Treasury note. Investors moved past the terrorist attack in Manchester, with U.K. equities rising a third day and gilts holding steady. The dollar rose after three days of losses. Brazil's real was little changed as S&P Global Ratings considers a rating change. South Africa's rand rallied, and oil topped $51 a barrel.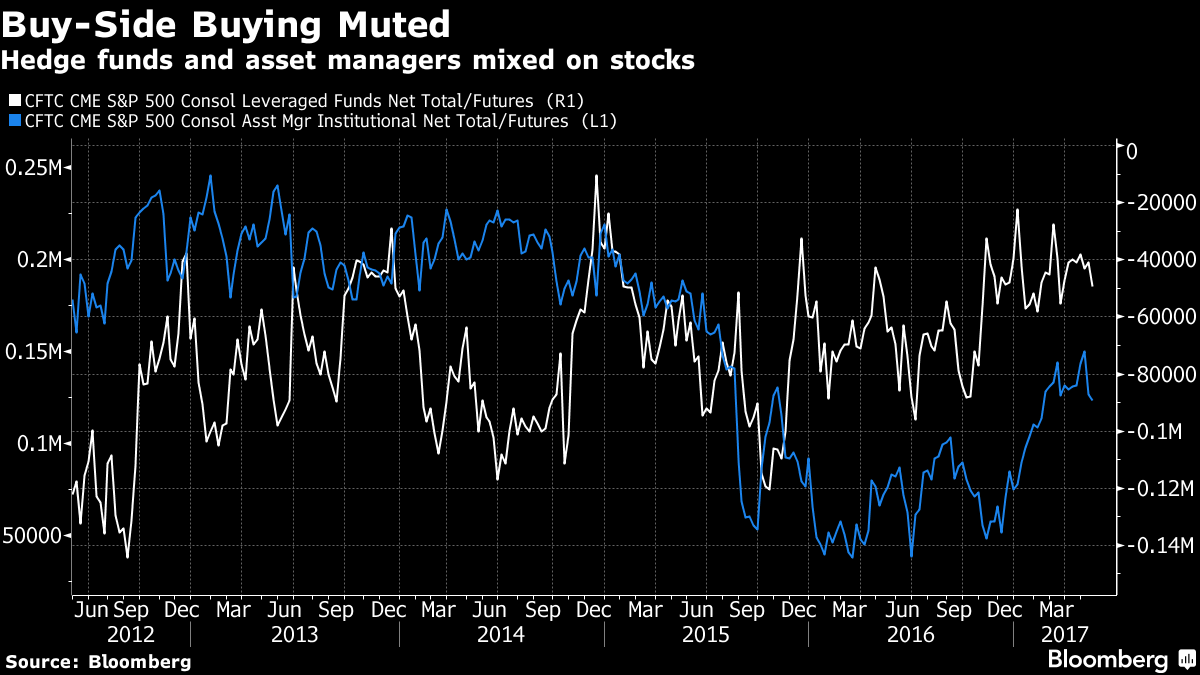 Investors took solace from data on Tuesday that confirmed the German economy is firing on all cylinders and France's is gathering momentum, adding to evidence that the European economy is on firm footing. That's bolstering the case for investing in the region. With President Trump overseas, renewed political turmoil in Washington did little to capture investor attention Tuesday as the White House delivered a budget that seeks steep cuts to social programs.
Read our Markets Live blog here.
Here are some key upcoming events:
Trump's tour will headed to Group of Seven and NATO meetings in Europe.
Minutes from the last Federal Reserve policy meeting will be released Wednesday, offering more clues to the path of interest rates.
OPEC will meet in Vienna on Thursday, with major oil producers edging closer to extending an agreement to curb output.
South Korea, Canada, South Africa and Thailand set interest rates this week.
And here are the main moves in markets:
Stocks 
The S&P 500 climbed 0.2 percent to 2,398.42 at 4 p.m. in New York. It rose as high as 2.400.85, two points from a closing record. The gauge has advanced 1.7 percent in four days.
The Stoxx Europe 600 Index gained 0.2 percent. The U.K.'s FTSE 100 Index added 0.2 percent.
Brazil's Ibovespa Index rose 1.6 percent.
Currencies
The Bloomberg Dollar Spot Index turned higher in afternoon trading to add 0.4 percent after falling to near the lowest level since Nov. 4.
The yen weakened 0.5 percent to 111.819 per dollar.
The pound traded 0.3 percent down at $1.2967 after weakening as much as 0.4 percent. The euro dropped 0.5 percent to $1.1180.
Brazil's real strengthened 0.1 percent to 3.26477 per dollar after falling to a five-month low last week amid corruption allegations against President Michel Temer.
Bonds
The yield on 10-year Treasury notes rose three basis points to 2.29 percent, as bonds fell for a fourth day.
Tuesday's $26 billion two-year note sale drew a yield of 1.316 percent, with a bid-to-cover ratio of 2.9, the highest in a year.
German benchmark yields rose one basis point while those the U.K. dropped one basis point.
Commodities
West Texas Intermediate crude futures rose for a fifth day, added 34 cents to settle at $51.74 a barrel in New York, the highest since April 18. Saudi Arabia is mustering support for prolonging production curbs ahead of OPEC's meeting this week.
Gold futures dropped 0.8 percent to $1,251.60 an ounce. 
China, the world's top user of refined zinc, boosted imports to the highest level in 13 months as stockpiles in warehouses monitored by the Shanghai Futures Exchange fell and domestic production shrank.
More From this publisher : HERE
Recommended Products